Do THIS Before You Automate Workflows in Dubsado
I'm going to let you in on one of the biggest mistakes I see when people try to automate their business processes. Are you ready?
Don't automate processes that don't exist yet! 
What do I mean? Well, automating your process isn't going to fix what's wrong with your business. It's not going to create a streamlined customer experience if you have no customer experience process! Instead, you're going to spend time reworking your Dubsado automations and workflows (or other tools' automations) because your process wasn't ready for it yet.
If that's what you've been dealing with, don't feel bad! This mistake often happens with business owners who are either new to the industry or have a brand-new offer structure. They haven't test-driven their strategy in the real world, so they don't know what roadblocks will come up. So when they automate their processes, they find themselves editing and rebuilding their Dubsado automations more often than not.
Of course, I'm not just going to tell you to stop creating automations before you're ready Instead, I'm going to show you how to create a process that makes it easy to automate down the road, whether you use Dubsado or another tool!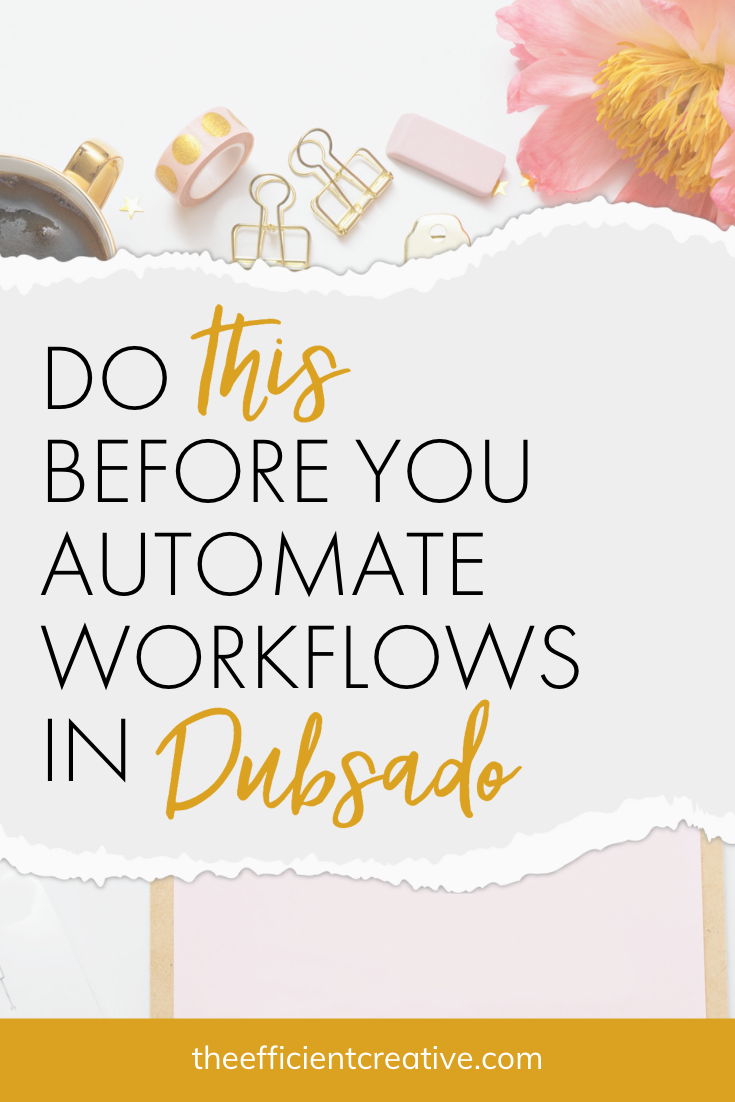 How to create an automation-ready process
Start sketching your ideal process. Ask questions like: How does a lead contact you? What happens when turning a lead into a client? What needs to happen for onboarding? Offboarding? Take the time to ask these questions and build your process path — it will absolutely help in the end.
Once you know the process you want to follow, you can start collecting the tools you need to get there. For example, start building your forms, contracts, invoices, emails, etc. Alternatively, you can also create as you go for your first few leads, then save those items so you can update and edit them as you refine your process.
3. Stick with a manual process
Until you've refined your workflow, don't worry about automating your workflow. You haven't put your process to the test yet, so you don't know what kinks or snags may come up. Instead, you'll save time and energy by using the templated materials you've already prepared and simply editing them as you adjust your process.
As you go along, you're naturally going to find the places where the process breaks down or needs fine-tuning. For example, you may need to combine a few emails into one email or send out your questionnaires sooner. Take notes of these snags, make adjustments, and smooth out the process as you go along.
Don't be afraid to make BIG adjustments if need be (it happens way more than you think!). The more time you spend refining your process to better suit your needs and your customers, the better it will be.
5. Don't automate until your process is consistent
It's only time to automate your workflow when your process is (mostly) standardized. Once you've stuck with the same process a few times with success, you'll know it's ready.
Giving yourself the freedom to explore the correct process BEFORE automating takes time but it will save you so much time and energy. You'll have the freedom to experiment with what works and what doesn't, and ultimately, it will make your workflow better than you thought it could be.
Call for help when it's time to automate
Finding the right processes for your business can be messy at best — but sorting through those processes to make them more concrete and automated is a key to long-term success. 
If you're ready to get help setting up the processes and workflows you've established, I want to help! Working together, we can automate and streamline your operations through my Dubsado setup services — in about 1 day! If that sounds like the kind of support you want to help you create workflows, you can apply for my Custom Dubsado Setup. 
All you have to do is: 
Give me a snapshot of your current business setup

Choose your Dubsado Setup Day on the calendar

Send me your current client assets

Sit back and relax! 
Once I'm done creating your Dubsado workflows, you'll get a step-by-step walkthrough of your shiny new Dubsado workflow (plus all your forms, emails, schedulers, questionnaires, etc.) We smooth any rough edges together and train you on every step to make sure you're ready to fly on your own!
The best part? You'll have your refined process set up as a Dubsado workflow with all your assets in place by a Certified Dubsado Expert who knows all the "secret handshakes" and is on-call for your follow-up questions! If you're ready to finally automate those workflows and processes you've been working on for a while, my Custom Dubsado Setup Services are the perfect solution.