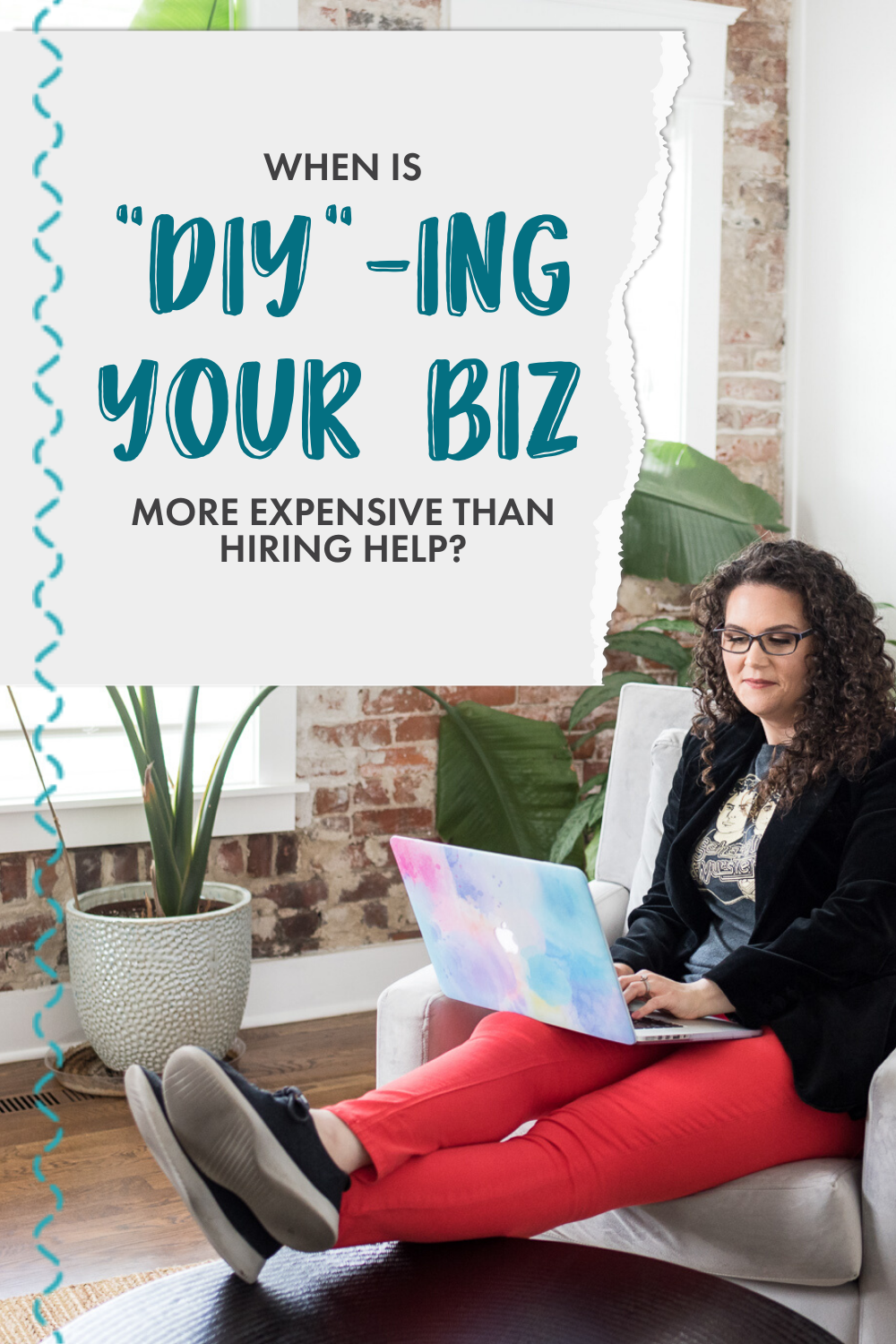 If you've been with me for a while, then you probably know that I'm kind of a super nerd when it comes to time-tracking. But if you're not a super nerd like me, let me break down this common scenario for you.
If you have even 2 clients, you're spending at least 5 hours a week on admin and marketing tasks.
Let's say your hourly price breaks down to around $100 per hour. If you've been in business a while, it's likely higher than that, but we'll go with this nice, round number for now.
So that means, if you're doing 5 hours a week on tasks that someone else can be doing, then that's $500 you're leaving on the table. Every. Week.
That's $2000 a month.
And that's a low estimate!
I was talking about this issue with my mentor Mel Pharr and she told me, "I have the perfect example of this and I want you to use it."
Years ago (when she was still DIYing her biz), she spent 12 weeks making her own website and writing, formatting, and scheduling her newsletters.
Time spent? 132 hours.
Revenue generated? $0. Plus, she was overwhelmed, frustrated by tech issues, and had no energy left for the parts of her business she actually loved. But at least she had a website?
After that, she shifted so that she would be concentrating her time on CLIENT-ATTRACTING WORK over the next 12 weeks: Direct outreach, creating webinar content, and offering assessments to potential clients.
Time spent? 76 hours.
Revenue generated? $28,882.
LET THAT SINK IN.
Plus, she was fulfilled and energized by the work she was doing, and confident that she finally had built the sustainable business she desired.
If that's not the perfect example of what can happen when you STOP saying yes to doing all the things and START saying yes to running a real, sustainable business, I don't know what is.
And I can't speak for other support people out there, but I can speak for what happens when you work with me.
When you say yes: You know that your biggest needs are being met because we've dug deep in our strategy session to dial-in to your goals, your strengths, and what really drives and energizes you.
When you say yes: Those 5, 10, 15 hours you were spending every week on admin and marketing? Boom. Now you're spending that time making an impact with your clients AND attracting new ones.
When you say yes: If attracting more clients isn't your jam, you could also spend those hours going hiking, playing with your dog, or having cocktails with your girls. It's your time again.
When you say yes: Your systems are seamless, your clients get a professional experience, and you didn't have to spend hours and sacrifice untold energy to create it!
I'm booking calls now for spring and summer spots for my most comprehensive client package, Set Up to Scale Up. If you're ready (or just curious) about what it could mean for your business to finally have real business support, book a free, no-obligation consultation now.