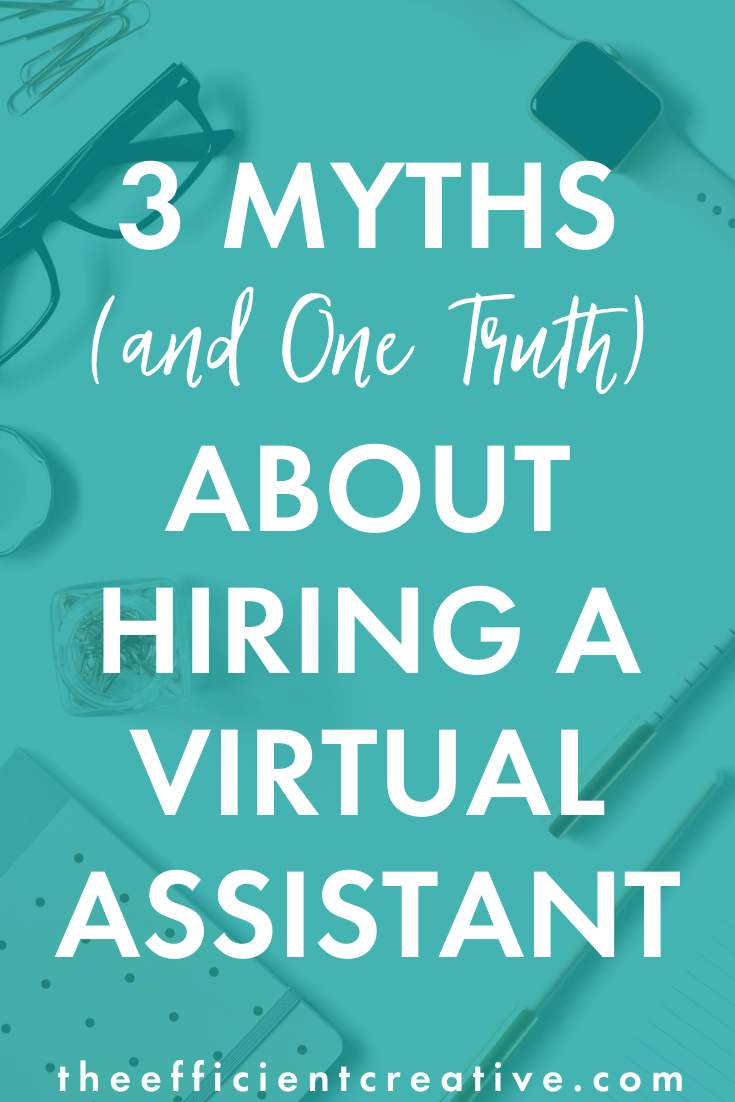 I talk with women who own creative online businesses literally every day, so let me tell you—if you've said to yourself, "I know I need to hire a Virtual Assistant, but…" believe me. You are NOT alone. There's no shortage of ways you could finish that sentence. That is, there are a lot of reasons why you may feel like you can't hire help in your business. And some of those reasons are valid. But many of them aren't. Feel like you need to hire a Virtual Assistant, but you're not convinced yet? Here are 3 of the most common myths about hiring a Virtual Assistant (and one big truth).
Show of hands: how many of you online entrepreneurs—when you started creating your online business—couldn't wait to get bogged down in administrative tasks? OK, so that's a ridiculous question, obviously. When you dreamt up your business, you were thinking of the ways you wanted to share your mission with the world. You wanted to help people solve a problem, create a beautiful space, or create meaningful results in their lives.
You started your business to help change lives, NOT to spend time on admin, right?
When you're in your "honeymoon" phase of business development, you're not envisioning the late nights responding to client emails, the "just let me finish this one newsletter before I start dinner" frenzy, the hours and energy that you'll spend on business support work that really isn't the reason you started this business in the first place.
But before long, that honeymoon phase is over and you ARE bogged down in management and administration. 
Where do you even start with finding great online business support? Fellow online entrepreneurs and Facebook groups can be a wealth of knowledge on the subject—for better or worse! Hiring a virtual assistant or other business support services (like a project manager or online business manager) can be daunting. So let me help make it easier.
I'm here to debunk 3 common myths you've probably heard about hiring a virtual assistant for your online business.
MYTH #1: "I'M SAVING TIME JUST DOING THE WORK MYSELF."
AKA: "It's easier for me just to keep doing this work because I know how I want it done." 
AKA: "Delegating to a virtual assistant just takes too much energy."
AKA: "It would be a waste to hire someone else to do this when I'm perfectly capable of doing it myself."
YOU GUYS. Just… no. Believe me, I get it. When you first think of delegating, you can feel overwhelmed. Where do you even start? Fortunately, I have a lot to say on the subject of how to go about hiring a virtual assistant (and I can help you hire a VA without feeling totally overwhelmed.) 
The truth is, yes, there's a little bit of extra time and energy that goes into onboarding a virtual assistant (or an online business manager). But when you find the right VA for your online business, you get that time back in spades. 
Which leads us to…
MYTH #2: DIYING SAVES ME MONEY.
This is closely related to Myth #1 (and they're both equally false—as long as you're hiring the right person for business support services.) I wrote a whole post on this recently that breaks down how much more money you can bring in every quarter when you have the right online business help based on real-life examples.
MYTH # 3: I NEED TO SCALE MY BUSINESS FIRST. THEN I'LL BE READY TO HIRE.
If you're an online entrepreneur who is struggling to get your first clients, then sure. It may benefit you to get to a place where you've got some revenue consistency. But if you have fairly consistent clients and you want to *grow* your business? I've gotta tell you: you're ready.
THE TRUTH? IF YOU WANT TO SCALE YOUR BUSINESS TO THE NEXT LEVEL, YOU HAVE TO STOP WASTING TIME ON ADMINISTRATIVE WORK.
Stop:
Scheduling clients

Fidgeting with your client onboarding system

Scheduling your social media posts

Setting up your own lead pages

Formatting and scheduling your newsletters

Tracking down missed payments

Proofreading your own content

Tracking your own analytics
…just to name a few!
Are you ready to up-level your business? Then you need to be spending your work hours on client-attracting, high-value work. Are you still doing most of those jobs I listed above? If so, you're going to find it harder to grow your business because you're not spending your time where it counts. If that's the case, I'd love for you to check out my Set Up to Scale Up program, where I help creative women with online businesses (just like you!) scale their businesses and increase revenue while doing what they love.