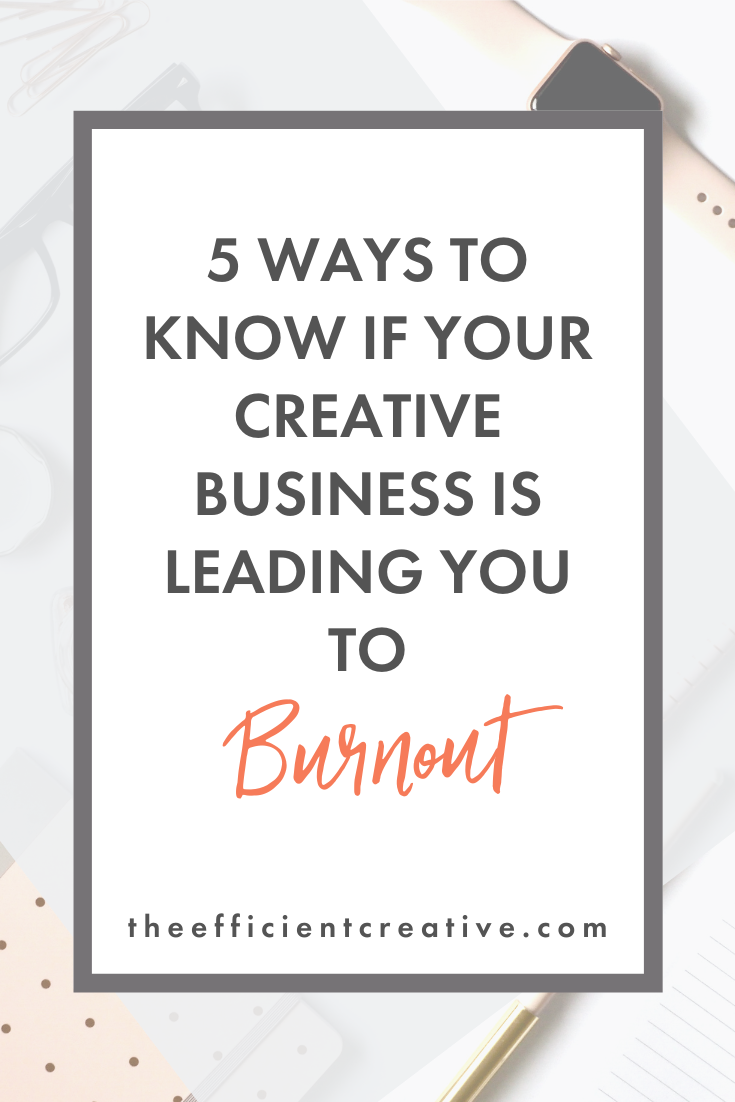 Often, organization doesn't feel easy for creative online entrepreneurs like you. When you're multipassionate, trying to corral those exciting and brilliant ideas can feel like herding (mental) cats. Let me ask you a question: does managing your business feel more time-consuming, frustrating, and like just more work than you think it should? Do you ever feel like you're on the edge of burnout as an online entrepreneur? Does the idea of organizing your business leave you feeling emotionally drained? There's a good reason you're feeling that way. Without the right support as an online entrepreneur, you're inviting burnout and mental exhaustion.
If you've found yourself spending way too much money and way too much time on tools that promise to fix all of your admin worries (but don't work), I might have an idea of what's gunking you up.
Here are 5 of the most common ways that running your business is leading you to burnout.
Do any of these burnout symptoms sound familiar?
1. YOUR EFFORTS TO STREAMLINE YOUR WORK ARE ACTUALLY CAUSING MORE WORK.
We've all been there. We have the best intentions to get organized but then end up getting distracted, redirected, or lost along the way. Here are some classic scenarios:
An online entrepreneur recognizes she's stretched too thin and wants to delegate tasks to someone else. To do so, she spends precious hours of her own time and energy each week/month spoon-feeding this new person information, and creating new To-Do lists for herself to ensure the new team member can do the old To-Do tasks she's trying to offload. The result is she's spent the same wasted amount of hours on the same old tasks, it's just dressed up as "delegating." (Little disclaimer: Delegating is great! Just make sure you're inventing the offboarding wheel once rather than setting up a new system that requires the same amount of effort from you each time a task is due.)
An entrepreneur sees she's unorganized and looks for productivity software to help. She chooses the most detailed and intensive one, assuming it will give her the most support. Instead, she finds herself frustrated, confused, and scheduling hour-long meetings with tech support and lost in a customer-support email wasteland. In the meantime, business tasks are being dropped and important items are lost in the cracks thanks to her new confusing software.

An online entrepreneur decides it's time she "gets organized once and for all" and emphatically heads out to buy a planner, pens, sticky notepads, a new water bottle that says "boss" on it, stays up all night reorganizing her work desk, decides to update her email signature, gets a new professional headshot, buys business cards, creates a Twitter account, tries a new website building platform, and creates a mood board and — wait a minute — has she done any work?
A fast way to identify if you're creating more work for yourself is by answering this single question: "Is the task I'm about to take on going to move the needle on the specific task that needs completing? Or is it simply a new task that runs adjacent or parallel to the task I really need to deal with?" If the answer to the first question is NO and the second question is YES, stop. Refocus. Go back to what you're truly trying to accomplish.
2. YOU'RE NOT CONSIDERING YOUR NATURAL ENERGY FLOW:
This is so, SO key, you guys! The 9-5pm schedule is not for everyone, especially for creative entrepreneurs!
If you're dumping your most important items on your plate in the morning and find you're totally mentally exhausted by lunch, you're really setting yourself up for a day half-wasted. Instead, try tackling your priorities during the pockets of time you feel your most alert, most creative, most focused, even if that doesn't mean they're done "first."
Perhaps it's in the early morning hours before your family wakes up or late at night when the rest of the world is quiet. I've seen people rock a "2 hours on-1 hour off" format that begins at 8am and ends at 7pm. Sure, they start a little earlier and end a little later, but they have an organic 3 hours of "off-time" built in to tackle life's other daily needs.
The beauty of rocking your own business is having the freedom (and permission!) to structure your hours in a way that works best for you.
3. YOU'RE WASTING TIME TRYING TO CUT CORNERS INSTEAD OF

 

JUST DOING THE THING.
Tale as old as time. When we feel overwhelmed or emotionally drained, we can sometimes panic looking for ways to avoid the grind rather than *master* the grind. Instead of dropping your shoulders and plowing through the work, you spend your day procrastinating and completing a lil' bit of this here, a lil' bit of that there, so on and so forth. Then, at the end of the day, you ultimately didn't save any time and you have nothing finished to show for it.
4. YOU'RE FEEDING YOUR "MUST-HUSTLE" BEAST AND TEETERING

 

ON THE BRINK OF BURNOUT.
Listen, I know how good it feels to be "in the zone." However, there is an important distinction between good business management and setting unrealistic expectations on an impossible timeline. While it feels great to get work done, it's important to remain practical about what you're asking from yourself. Maximizing your work when your energy is high is great, but don't plan your projects around that level or productivity forever and always. You're going to burn out eventually, and all of that momentum and progress you made will be sacrificed and lost in the long run when suddenly you feel like you can't do ANY work.
5. YOU'VE FOUND YOURSELF IN A CONSTANT STATE OF REACTING.
One fast way to tell if you're in a cycle of bad online business management is to determine if you are always in a constant state of reacting. What I mean is: You're playing defense. Your days are spent putting out fires, addressing issues that popped up the day prior, and tackling items as they happen, making it impossible to get started on your own goals and objectives. It's like trying to fill in cracks in a wall while water leaks through.
Good business support will do two things: 1. Allow you to play offense — i.e. put you in a place where you can be strategic, thoughtful, and innovative about the business moves you want to make and ultimately have space and time to put them into action. And 2.) build you a sturdy foundation so water doesn't begin to leak through the cracks in the first place. I have a lot more to say about this, but that's for another blog.
Remember: without the right support as an online entrepreneur, you're inviting burnout and mental exhaustion.
Fortunately, I can help you take the reins on your workflow and implement systems that counteract the pitfalls described here. If this sounds like exactly what you need right now, then I'd love to introduce you to my Set Up to Scale Up Strategy Session package. In just 3 hours together, we can build that solid foundation for the most painful part of your biz.
I promise it's possible to stop spinning your wheels, capitalize on your energy, maximize your time, avoid burning out, and play stellar offense for your business, and I'd love to help.