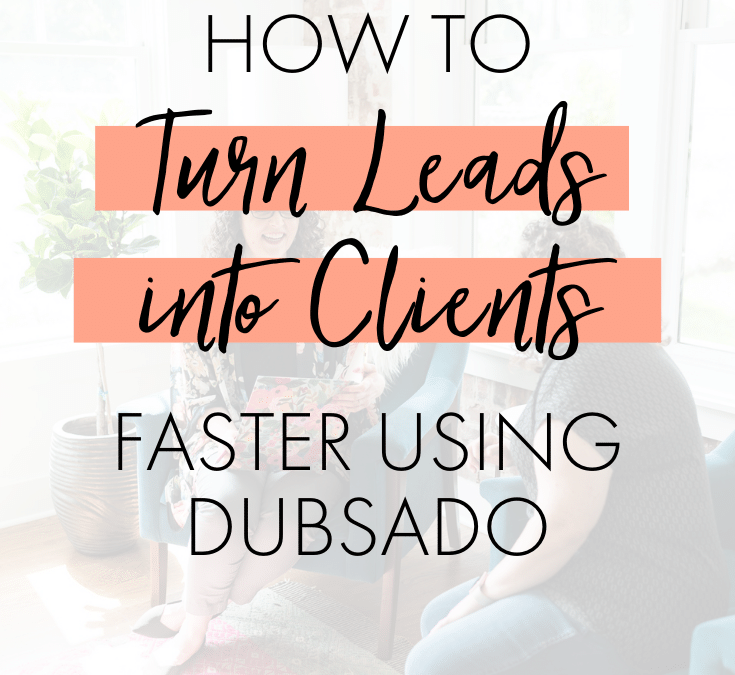 2 Methods of Turning Leads into Clients with Dubsado Setup (Tutorial)
You've been getting email inquiries or messages in your Instagram DMs. You've had a couple of discovery calls scheduled and more than a few interested people, ready to work with or buy from you. But the whole process is a ton of work. Scheduling calls that line up with everyone's schedule? Exhausting. Following up with details you need before a call? Easy to forget. Making sure the interested person is the right fit for you before a call? Nearly impossible. At least, that's how it all feels.
Did you know there's a way to collect leads' information, keep track of important details, and have all the information you need to host a discovery call or confidently let a lead know you're not the right person or brand for them? It's called… Dubsado. If you're a return reader, you know that I love Dubsado. If you're new here, well, now you know, too.
If you want to make it easier to turn leads into clients faster, let's talk about how to use Dubsado to your advantage. I've got setup tutorials below for two great Dubsado options that have worked wonders for some of my clients. These processes can speed up the conversion process and help you weed out leads who may need to find someone who better fits their needs. But first, let's talk about what you need before digging into Dubsado.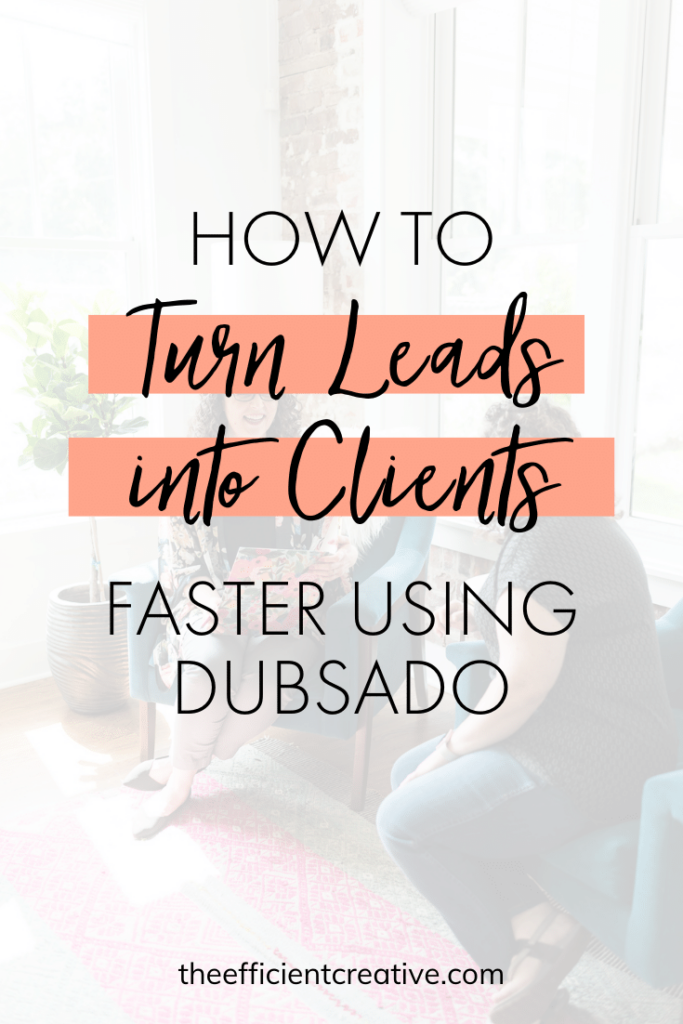 Prep for Your Dubsado Setup
You don't want to just start slapping things together for a discovery call or inquiry process — trust me. Instead, take a minute to think about the actual flow you want people to go through. Do you want people to give you a lot of information before the call? Are you OK with a little less information? Are people going to be scheduling a discovery call, or are these appointments for services/deliverables (i.e. a VIP day, a coaching call, etc.)? 
You should also think about what you and your inquiring lead will need to know before the call. Do you want them to bring anything to the call? How many reminders will they need so they don't miss the Zoom link? 
You should also think about when you want to take these discovery calls (or project calls), and how many per day you want to take. This is all important information that will help you set things up in Dubsado faster. Now that I've got you thinking about all that, let's talk about the two different ways to vet leads in less time.
Option 1: The Discovery Form Setup
Do you keep getting inquiries that you know aren't the right fit, but only after you've spent time and maybe even a good hair day discussing it with them? 
While you may need to bring on a few not-so-ideal clients as you get your business up and running, you don't want to keep attracting those kinds of leads. That's where Dubsado can really shine for you. With a discovery form (sometimes called an application form), you can set up "standards" and required fields that give you information about a potential lead — before you ever have to schedule a call with them. 
For example, this discovery form is embedded on my Dubsado Setup Services page — and it makes it super clear how I work, what they need help with, and more.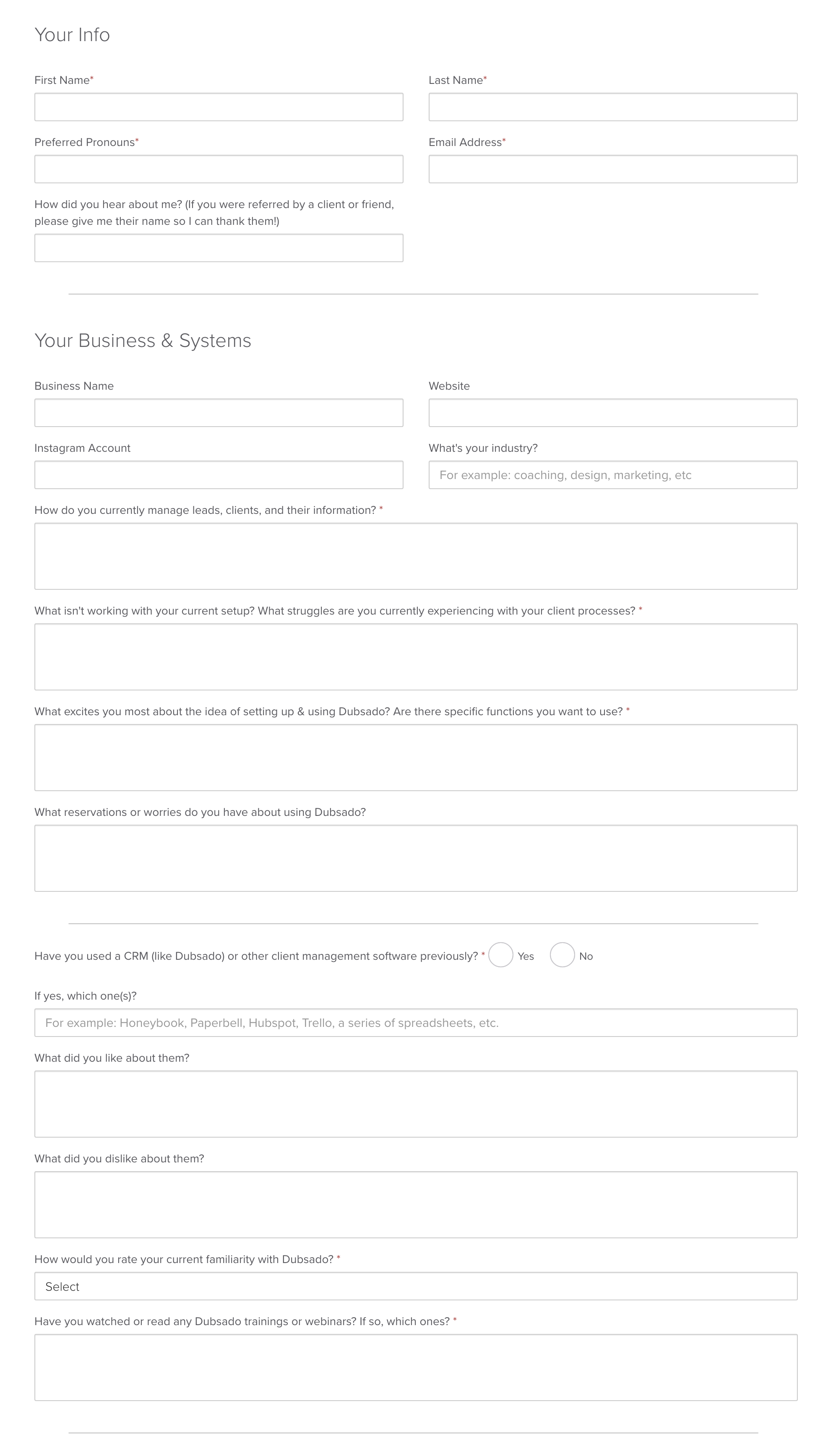 The best thing about this automatic discovery form process is you get to vet the lead BEFORE you schedule the call. 
This way, you can make sure it's a strong fit beforehand, and nobody has to spend time on a call that isn't right for them. If it's not a fit, you can gently let the person know (with an automatic response inside Dubsado, if you like!) that someone else or another service may be more in line with their needs. It's a timesaver for you, helps you maintain your boundaries, and can make potential clients feel cared for even if they can't work with you.
How does the discovery form process work?
Before I break down this automation into all the nitty-gritty steps, it helps to have an overview of the journey your lead will take through your discovery form process. So here are the basic steps: 
A potential lead finds your website, social account, videos, or other materials and is totally wowed by what you do. They think to themselves, 'Yeah, this person can definitely help me.' They want to know more, so they visit your website and click on your discovery call link, or click on your services/packages pages to learn more.

The discovery call link takes them to the lead intake form (rather than a scheduler), which you've set up to ask helpful questions, like 'What are you looking for?' or 'What services do you need?' If you've set this form up correctly, you should learn who they are and what help they need from you.

Here's a tip: Don't make the lead form too long. Be strategic with the questions you ask, but don't make it take too long. This can discourage people from working with you!


The lead submits the form and is either directed to a page that says, "We'll get back to you soon!" or they can schedule a call from there. You'll get a notification of their lead form. You read it over and decide if you want to extend a call invite, or whether or not to take the call they scheduled.

If you do decide to move forward with the call and it's a match, you start the onboarding process. Huzzah!

Here's another tip: You can even set up a 'not a good fit' process for potential leads who didn't pan out, where you can periodically send them news and updates on your products or packages. 
As you can see, this process is focused mostly on getting information from the lead before a call. It's seamless for them and you, and makes it so much easier to see who's a good fit before ever hopping on another Zoom call (we're all tired of Zoom, right??).
How to automate the discovery form process in Dubsado
Follow this super simple Discovery Form Checklist to make sure you have everything in place.
Set up your scheduler: 

What days and times are you available for leads to book a discovery call?

Set your meeting location (i.e. a specific Zoom link)

Set other relevant scheduling details (i.e., adding buffer time between calls, etc.) 

Lead intake form:

What information do you need from a lead BEFORE you meet with them? 

What problem are they trying to solve?

What is their timeframe? 

Ask open-ended questions about their industry, business, current struggles, and what they've already done to try to fix things

Make sure to rename the lead form once you've created it

Make sure the privacy settings are set to PUBLIC

Optional action item: You may want to adjust your standard email templates for the discovery call process by changing the wording or updating your email signature.

Create or update your appointment confirmation template

Create or update your appointment reminder email

Sync everything with your calendar to avoid double-booking
Create the webpage for your lead form through your website platform
Embed the discovery lead form link on your website using the embed code found when you click the "Share" button in the form builder.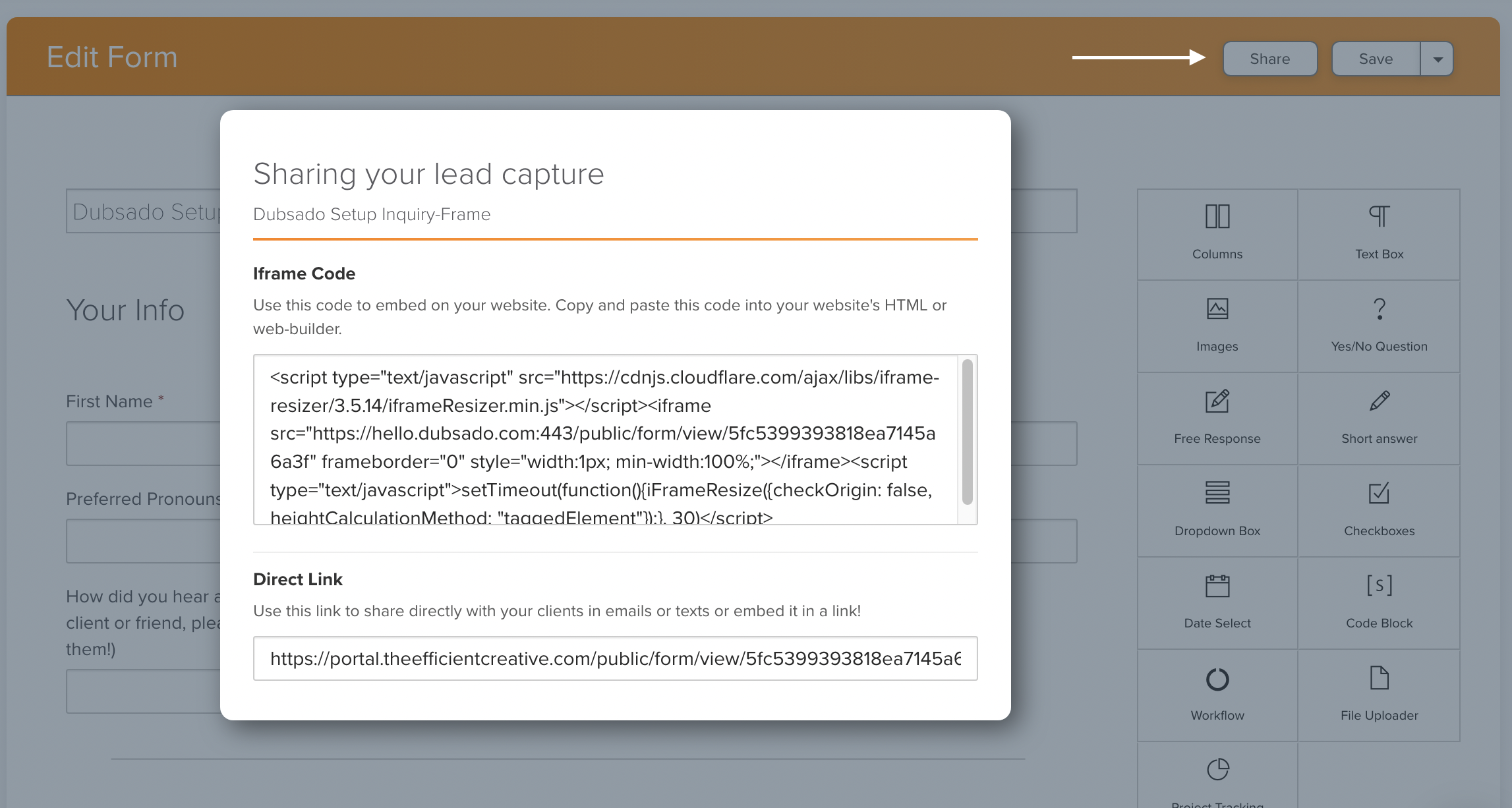 See? That wasn't so bad, was it? This is a super simple way to create boundaries around scheduling and discovery calls, and learn more about your leads. 
But what happens if you want to make it easy to schedule a call for things like consultations, VIP days, strategy sessions, and more? You may have already vetted those leads and now it's time to turn them into paying clients faster. Keep reading to see how to do just that!
Option 2: Direct to Scheduler Setup
Do you feel like your inquiries are generally from people who are good fits? Do you have a lead generation process down that seems to send the right people to your calendar? That's amazing! And the good news is… that means you can have a little cleaner discovery process that just requires a Dubsado scheduler embedded on your site or landing page.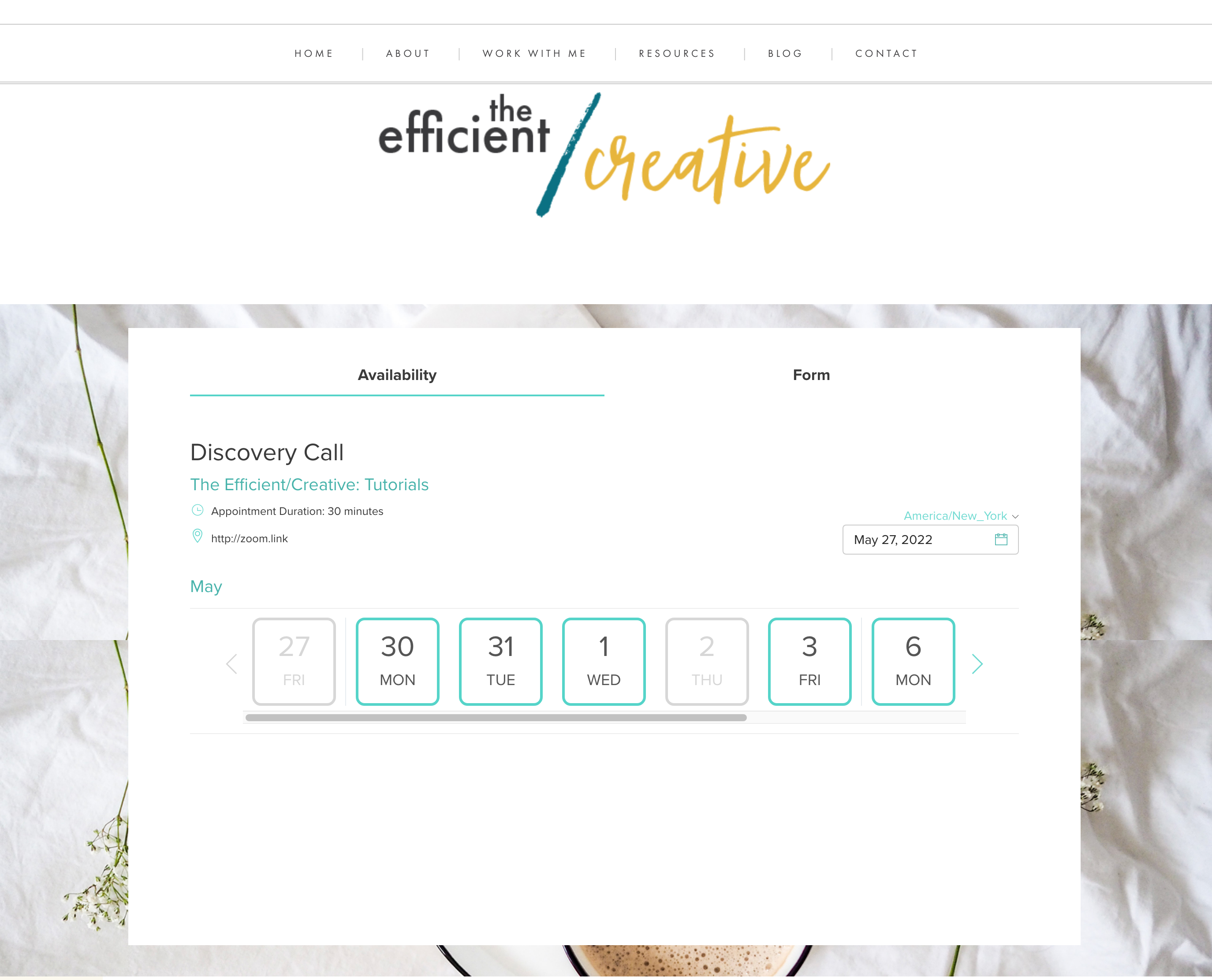 The scheduler option is so helpful if you're at the stage of the business game where you know what you do, and you know how to explain it really well to your potential leads. It's that sweet spot where you've got your processes and workflows figured out, so everything is humming nicely, and you just need to start churning clients through your system. 
The advantage of the scheduler option is that it skips the vetting process of the discovery form and lets you get started faster. At this stage, the discovery call is less of an awkward first date to see if you're the right fit for one another and more of a marriage proposal after a few years of dating — you're pretty sure they're going to say yes.
How does the scheduler process work?
Just like the discovery call process, the lead still fills out an intake form, gets confirmation emails, and picks an appointment time. But the beauty of the scheduler is that this all happens at once, so things go faster. The lead picks an appointment time from the embedded scheduler, fills out a (usually shorter) intake form, and then gets a confirmation email. There's no back and forth or vetting. The appointment is booked and ready to go.
How to automate the Scheduler in Dubsado
Unlike the discovery call, there is no workflow for this process. It's all happening simultaneously, so you just want to ensure that everything is in place and correct BEFORE it's live. This checklist can help.
TIMESTAMPS:
00:00 Intro
01:06 Basic Process Steps
01:45 Process Steps In Dubsado
02:15 Checklist: Before You Build
03:34 How to Edit the Dubsado Lead Form Template
04:56 How to Edit the Appointment Confirmation and Reminder Emails in Dubsado
07:25 How to Sync Your Calendar with Dubsado
08:16 Syncing, Importing, and Exporting Your Calendar with Dubsado
09:48 How to Build Out the Discovery Call Scheduler in Dubsado
18:49 How to Embed the Dubsado Scheduler in a Website
20:02 Resize the Dubsado Form for Your Web Page
21:31 Previewing the Dubsado Embedded Scheduler
22:14 Tips for Testing Your Dubsado Setup
23:14 Custom Dubsado Setups from The Efficient/Creative
Ensure that all your intake forms, scheduler, and email templates are in place

On the scheduler: 

Check that your discovery call form is attached to the scheduler

Add appointment reminder emails

On the lead form: 

Make sure that it's clear and direct

Make sure your appointment confirmation emails and reminders are in place
Embed the scheduler on your website
Test the scheduler BEFORE you make it public! Trust me, don't skip this step. It can help you see any issues or problems your leads may encounter and fix them.
Want My Help Turning More Leads into Clients?
Converting your leads into paying clients is a big part of owning your business, and these processes can help. But if playing around in Dubsado isn't for you, or you're making the switch from another system that isn't working for you, let me help!
With my custom Dubsado setup services, I'll help you create automatic processes that make it easier to wow leads, convert them into clients, and grow your business — with fewer emails, less calendar math, and less chaos. Want my help? Fill out my Dubsado Setup form below! (See how easy it is??!)